Written by Joe Viglione
Monday, 14 September 2009 21:26
Send this page around:
http://tinyurl.com/littlejoecookthrillers
---
Developed in August of 2002 and released some months later in 2003, Little Joe Cook's 80th year, In God We Trust combines new renditions of previously written songs as well as material culled from 45s, much of it never before available on an album or CD. "Mr. Bush in the White House Chair" was actually written while Jimmy Carter was in office, and re-recorded with new lyrics at Cook's home studio after the tragedy that was 9/11/2001. The liner notes refer to this as gospel with "a touch of patriotism," an accurate description. Read more here:
http://www.answers.com/topic/in-god-we-trust-rhythm-blues-album
---
Little Joe Cook & The Thrillers: Blast from The Past
The Top 25 song from 1957, "Peanuts," leads off this majestic 32-song compilation released by Little Joe Cook's own Beantown International in 1997. This generous disc is a very easy listen for fans of rock & roll, rhythm and blues, pop, and American music. The falsetto on "Peanuts" inspired Frankie Valli; in fact, the Four Seasons recorded the tune, although it was credited to another songwriter on their disc (and other covers as well, for a very long time). After a lengthy battle, Cook has set the record straight. Read more here:
http://www.allmusic.com/cg/amg.dll?p=amg&sql=10:hzfrxql0ld0e
---
Listen to the original "Peanuts" by Little Joe Cook
http://www.youtube.com/watch?v=EM1JSa8r3XM
---
Lady From The Beauty Shop
This 1996 album comes almost 40 years after his Top 25 hit "Peanuts." There are six studio tracks, beginning with the title tune, and five live performances from the Boston club the Cantab, ending with "Lady From the Beauty Shop." In between is classic rock & roll fused with R&B. "Give It to Me," despite the barroom recording, is tremendous. Hearing this record is evidence of why college kids year after year get turned on to Little Joe Cook and his following continues to expand.
Read more: http://www.answers.com/topic/lady-from-the-beauty-shop-1996-album-by-little-joe-cook-the-thrillers
---
Gemmzine Editor Joe Viglione's writings on Little Joe Cook published in the book
The All Music Guide To Soul: The Definitive Guide To R&B and SOUL
---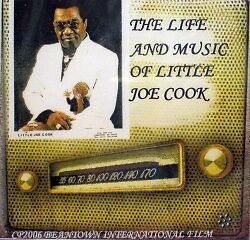 ---
LITTLE JOE COOK Stormy Monday Blues (Very rare 1965 UK 7" vinyl single featuring Parts One & Two with intact original tri-centre in generic Sue Company die cut paper sleeve.
---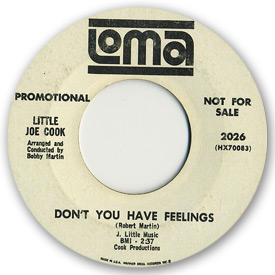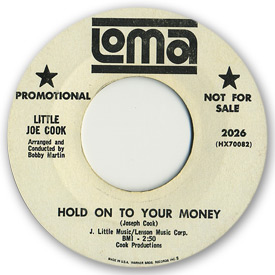 Little Joe Cook & The Thrillers
---
Good Boston Magazine article from 2001 "Still Cookin' "
Last Updated on Monday, 14 September 2009 22:49